Revive 2024 celebrates 50 years of Ichthus!
Revive 2024 is an extra special year for us because we celebrate 50 years since Ichthus was planted! Ichthus began in September 1974, so we are taking the opportunity to celebrate in August 2024 at Revive. We are so grateful to God for all He has done in and through us in this last half-century. We seek to always be a revive-d and reviv-ing people who look back with thanks, look forward with faith and look around for what God is doing amongst us as we gather again this year to cry out 'Revive us Lord!'
The whole of our 2024 Jubilee Year in Ichthus is going to focus on 'The Voice of Jesus' from one of his most powerful statements:
"the Spirit of the Lord is upon Me,
Because He has anointed Me to preach the gospel to the poor.
He has sent me to proclaim release to the captives,
And recovery of sight to the blind,
To set free those who are oppressed,
To proclaim the favourable year of the lord." (Luke 4:18-19)
We have named Revive 2024 'Fearless and Free', two challenging and inspiring concepts central to this Luke 4 passage. Jesus' voice is like a powerful trumpet (Rev 1:10), always releasing a FEARLESS FREEDOM in the lives of those who draw near to him in worship and awe.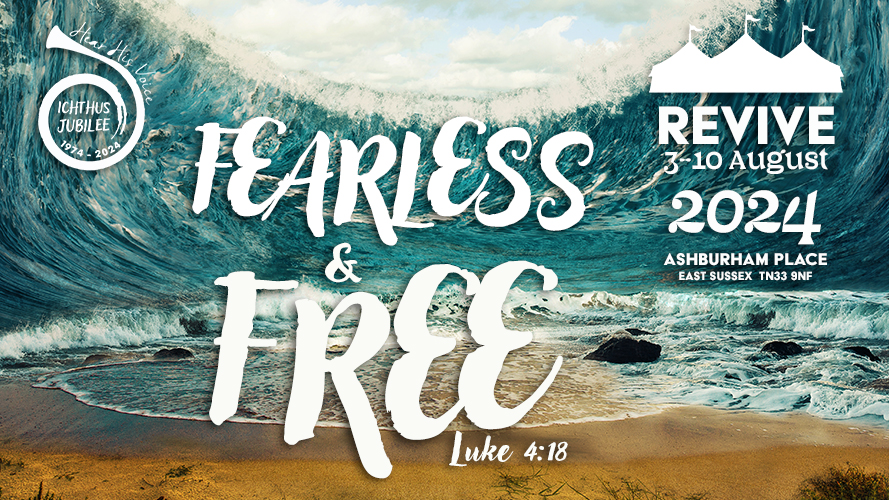 Fearless
A sustained year of favour, a Jubilee year, is available to us when we break into a Fearless place of faith, taking hold of the Holy Spirit anointing that was on Jesus and embracing his fullness upon his church today.
Free
Revive is a week where freedom is deeply experienced – deep in our hearts, in our relationships and in the wider Church. Experience physical and emotional healings, with hope renewed in every life and situation.
We invite you to Revive to celebrate with us as we blow the trumpet of Jubilee for Freedom and for victory over fear, and for His radical favour to rest upon us all.
If you have been coming to Revive since its beginning, or if this is your first time, you are welcome! It doesn't matter what background or church you come from, everyone is gathered to Hear His Voice,  seek His goodness and glory (Psalm 29).
The programme of Revive is bursting with life, with something to engage with from dawn until deep into the night. From celebrations to seminars, sports to prayer ministry, and workshops to sipping hot chocolates around a fire pit with old and new friends, Revive is simply an amazing week.
There are streams and sessions for every age of child, teenager and young adult, giving them space and security within which to grow and grow as disciples of Jesus.
Don't miss out, this is going to be an amazing, Jubilee year of Revive!